Raising a child with a disability has challenges for the child with the disability and their siblings too. Siblings often feel left out but need to feel they are just as important as their sibling with a disability. They need to know the people in their lives care about them and understand what they are going through, too.
So, what can you do to help siblings of children with disabilities?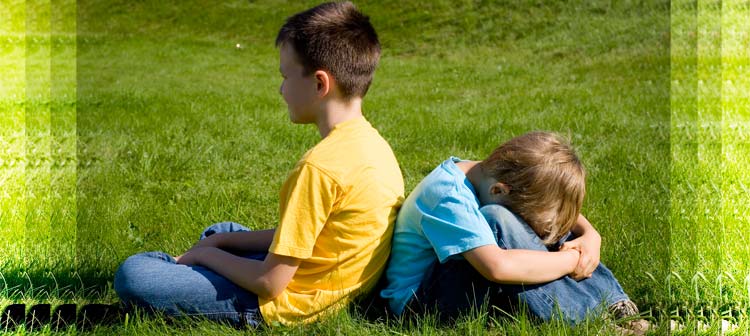 Talk about feelings and thoughts.
By talking, you send a message that it's okay for a sibling to have varied feelings and thoughts about their sibling with a disability. Encourage siblings to share these and, most importantly, listen without judgment. Acknowledge their feelings and assure them it's okay to ask for help with any feelings and thoughts about their family.
Spend time with them.
If a child with a disability needs extra time and care, it can impact activities and quality time spent with siblings. Spending quality time with siblings conveys that they are important to you. It also allows you to find out what is happening in their lives. Try planning one-on-one time with siblings and even let them choose the activities you do together.
Help them understand and connect to their sibling with a disability.
A child's understanding of disability varies depending on their own age. Some wonder, "Did I cause it?" "Will it go away?" or "Will I catch it?" Answer your child's questions honestly in a language they understand. Encouraging a child to take part in a sibling's therapy activities sometimes helps them better understand their sibling's disability.
Siblings of children with disability often have ups and downs that affect how they feel and behave. But sometimes, children don't 'bounce back' from the downs, affecting other parts of their lives. This can be a sign that children are having mental health problems. It's a good idea to get professional support if you notice that your child is:
sleeping more or less than usual
eating more or less than usual
being more irritable
showing less interest in things they used to enjoy
avoiding or being aggressive towards their sibling with a disability
having trouble with schoolwork
not wanting to spend time with friends
pretending to have a disability as well
trying too hard to do well or please others.
For help and additional reading:
https://siblingsaustralia.org.au/
https://raisingchildren.net.au/disability/family-life/siblings/supporting-siblings
https://www.psychiatryadvisor.com/home/topics/child-adolescent-psychiatry/emotional-problems-facing-siblings-of-children-with-disabilities/
https://childmind.org/article/advice-siblings-of-special-needs-kids/