When diagnosing autism, the diagnosis is best made by a multidisciplinary team including a paediatrician (or psychiatrist) a psychologist and a speech pathologist. They will use the Diagnostic and statistical manual of mental disorders (5th edition), or DSM-5, produced by the American Psychiatric Association.
The DSM-5 lists the signs and symptoms of autism and states how many of these must be present to confirm a diagnosis of autism spectrum disorder. When diagnosing autism, the three levels below are often used as a guide only.
With any guide, a child can fall in and around these levels. Children may present with some or all of these characteristics. Every child with autism is different and can require assistance on some or many levels. To determine whether a child has autism signs and features and meets DSM-5 criteria, we also need to do extra tests.
With early diagnosis, it is possible, with the necessary help and support, a child with autism can change levels depending on their abilities. For example, they may learn how to develop their social interactions, calm their repetitive habits, develop language etc.
Children can be typically diagnosed around the age of two, and early intervention is the key to helping them meet developmental milestones. Currently, one in 100 Australians have an Autism Spectrum Disorder*.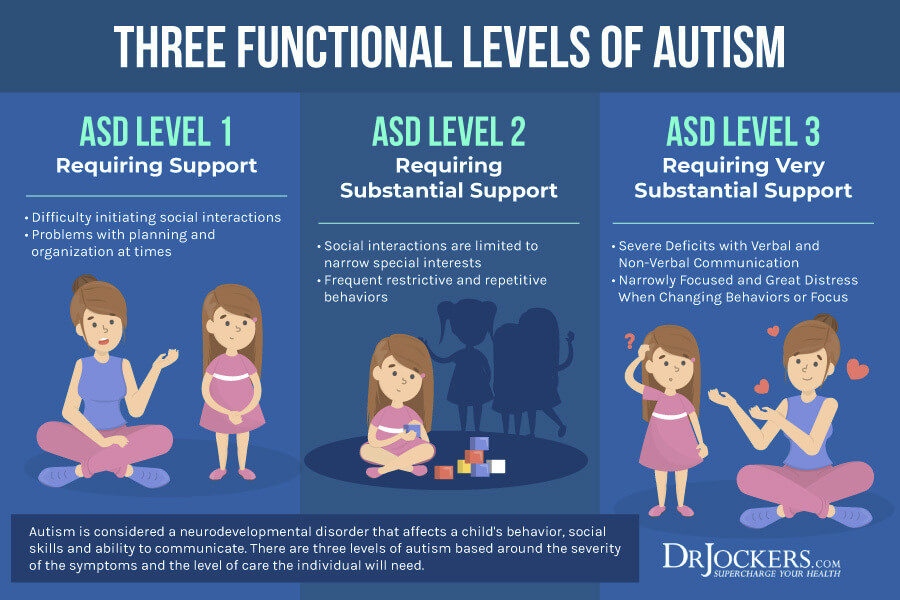 Level One
This is seen as the mildest level of ASD, and it is often referred to as "high functioning". Children need some degree of support based on their degree of impairment related to social communication and restricted or repetitive behaviours. They struggle with conversation, eye contact, reading body language etc.
With support, they may function reasonably well in most settings. As a result, they may be seen to struggle in aspects of conversation or lack close friends due to their lack of interest or inability to initiate friendships or interest in imaginative play.
Level Two
They may have similar issues to Level One but more pronounced. A child is likely to require "substantial support" based on their social communication abilities and their restricted or repetitive behaviours. They struggle with non-verbal forms of communication, along with sensory issues, focus on routines and fixation on objects or topics.
Level Three
Requires 'very substantial support," It might be a child who has severe deficits in verbal and nonverbal communication. They will have very limited speech and communication, limited social initiation, and respond only to the most direct social cues. They will often have an Intellectual disability which makes it harder for them to learn new skills. They may be so driven by their restricted or repetitive behaviours that they are unable to function effectively in different settings.
https://www.autismawareness.com.au/could-it-be-autism/understanding-autism/